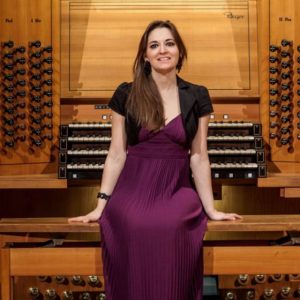 Ioanna Solomonidou was born in Almaty in 1987 in a family of musicians. In 1990 the whole family moved to Thessaloniki in Greece, where she has attended the local "Modern Conservatory".
Ιn 2005 she ended successfully her studies with Distinction and her first degree at piano and harmony. During her studies in Thessaloniki she has repeatedly participated in various master classes, such as with P.Vladigerov, R.Bekker, Itto, V.Tsatsava etc.
After graduating from High school she continued from 2005 to 2009 her musical education with Bachelor Studies at the Kazakh National Conservatory named after Kurmangazy in Almaty of Kazakhstan. In Almaty she attained a Bachelor-Diploma in piano, accompaniment // correpetition, chamber music performance and organ. From 2009 to 2011 she was accepted at the Master studies at the same Conservatory, which she ended successfully with her degree with Honors at "Master of Art Criticism // Instrumental Performance", with organ by G.Nesipbaev (organ teacher) as the main subject.
Her further studies led her to Germany, where she studied from 2011 at the State Academy of Music and Performing Arts in Stuttgart in the class of the renowned Prof. Dr. L.Lohmann. In 2013 she graduated from her Master studies and became a holder of a Master's degree at Organ Performance, "Master of Music". Since 2013 she was following her Konzertexamen studies (soloist class) at organ with the same Professor, that she completed with Honors in 2016.
As a pianist in 1997 she received the Grand-Prix in the XI national competition for young pianists in Athens. In 1999 she won the Third Prize at the XXII international piano competition in Agropoli, Italy and a year later she took part as a pianist at the first international Music Festival for young musicians in Graz, Austria. In 2006 she was awarded with the first prize at the international competition of Chamber Music in Almaty, Kazakhstan. As an organist, she participated in 2010 at the international Festival of Organ Music "Spring City" in Almaty and at the master classes "Iuniores Priores Organorium Seinensis" in Poland and Lithuania with the professors J.Serafin, J.Gembalski and G.Gnann. In 2011 she won the special prize "Hope, Faith, Love" at the VII international M.Tariverdiev organ competition in Kaliningrad, Russia. One year later she was awarded with the Grand-Prix, as well with the prize for the best interpretation of J.P.Sweelinck's piece at the VIII international
J.P.Sweelinck organ competition in Gdansk, Poland. There she scored her first experience playing as an organist with the Polska Filharmonia Bałtycka orchestra. In June 2014 she was awarded with the Third Prize at the international organ competition "Pipeworks Festival" in Dublin, Ireland, where she played with the Belfast Ulster orchestra under the Paul Brough's direction. One month later she wins after a competition the opportunity to take part at the "Rising Stars" project, that gave her the chance to play with different orchestras in Europe. In 2015 she has played with the student orchestra of the University of Music and Performing Arts under the Graziella Contratto's direction in Graz, Austria. In the same year she received a diploma as a finalist at the VII international M.Ciurlionis organ competition in Vilnius, Lithuania. In June 2016 she played with the Stuttgarter Philarmoniker orchestra, headed by Johahnes Klumpp.
At the moment she is an active solo and ensemble artist with many concerts in several countries using various programs. She has a wide repertoire, which covers different styles and epochs from early Baroque to modern organ music. She has performed in Greece, Kazakhstan, Germany, Austria, Sweden, Russia, England, Poland, Lithuania etc. Ioanna speaks four languages (Greek, Russian, German and English and since 2015 she is the organist at the Amanduskirche in Beihingen, Freiberg am Neckar, Baden-Württemberg, Germany.